What is ETP?
A signed paper prescription signed is one of the current recognised legal instruments authorising medicines supply.
Some paper prescriptions contain a barcode that enables prescription data to be electronically transferred between prescribing and dispensing systems. The script data is then verified by the dispensing pharmacist against the paper prescription, reducing data entry and risk of transcription error. This is known as the electronic transfer of prescriptions (ETP).
Prescription Exchange Service (PES)
The electronic transfer of the prescription is sent via a Prescription Exchange Service (PES). In Australia, there are two PES: eRx Script Exchange and MediSecure. The two PESs are interoperable, meaning electronic prescriptions sent to one can be downloaded by a pharmacy connected to the other.
Benefits of ETP
Improved patient safety - reduces risk of transcription errors during the dispensing process.
Workflow efficiencies
Faster and more accurate dispensing for pharmacies.
SafeScript 

connection to a PES improves the user experience when using SafeScript - easier and faster. See the SafeScript Integration article for further information
connection to a PES by prescribers is essential for prescriptions to be visible on SafeScript - otherwise clinicians will be missing prescription records during the clinical decision making process. 
connection a PES is mandatory for all Victorian pharmacies to allow for complete dispensing records on SafeScript.

My Health Record - PES data can be automatically uploaded to My Health Record.  
Electronic Prescriptions - the PESs will form an integral part of the technical infrastructure for electronic prescriptions. 
No Cost - free for prescribers and cost neutral for pharmacies. 
PES Registration and set-up
Details of how to register with the two PES providers are available on their websites: eRX Script Exchange and MediSecure.
Your clinical software may determine which PES you register with as not all systems are integrated with both PESs. Check with your clinical software vendor or the PES provider if you are not sure of compatibility. 
Your PES and software providers will do the initial  set-up and configuration on your clinical software. For general practices and specialist practices, it is important that new doctors are also registered with the PES provider and set up for ETP on your software. 
Tip: Check if there is a barcode on the prescriptions issued by each doctor (see below).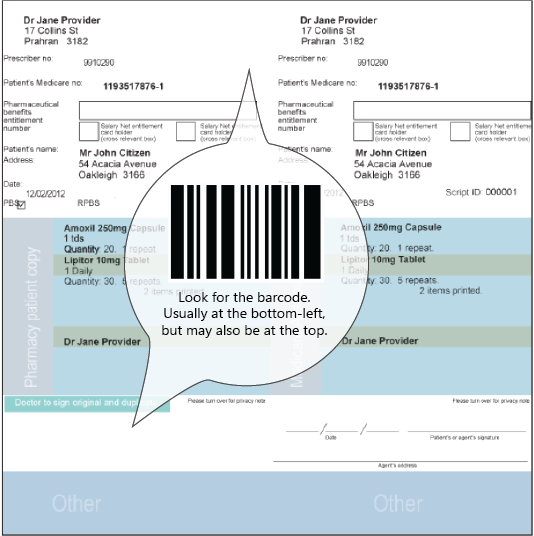 If the barcode is missing, the doctor/s might not be properly set up for ETP. Contact your PES provider for instructions on how to set up new or missing doctors. 
Electronic prescriptions legislation change
Commonwealth legislation was changed commencing on 31 October 2019 which recognises electronic prescriptions as an alternative legal form by Pharmaceutical Benefits Scheme (PBS) can be issued. Prior to this only paper prescriptions signed by the prescriber were accepted. The electronic prescriptions article has more information on the implementation of electronic prescriptions in Australia.