Overview
The Healthcare Identifiers Service is the foundation of digital health. It is a consistent set of identifiers for individuals and healthcare providers, so that we know for whom care was provided, who provided it, and where it was provided. 
There are three types of identifiers:
Individual Healthcare Identifier (IHI)  - the person who received care. IHIs are assigned to every person enrolled in Medicare or registered with the Department of Veterans' Affairs.
Healthcare Provider Identifier - Individual (HPI-I) - the person who provided the care. This includes GPs, allied health professionals, nurses, dentists, and pharmacists.
Healthcare Provider Identifier - Organisation (HPI-O) - the organisation where the care was provided, such as hospitals or general practices. Sole practitioners can also apply for a HPI-O.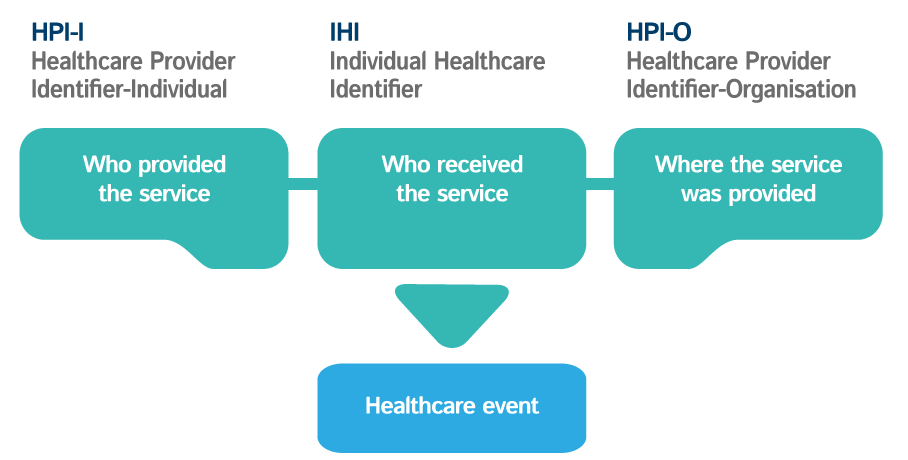 Medicare Australia has more information on Healthcare Identifiers.
Common uses of Healthcare Identifiers in primary care
Access the My Health Record system.
Obtain and validate a patient's IHI.
Included in documents using the Australian standard, such as Shared Health Summary and Discharge Summary, to ensure the document refers to the correct patient and provider.
Structure
To access the HI Service, an organisation (known to the Service as a Seed or Network organisation) needs to have its own unique HPI-O. Once a HPI-O is obtained, your organisation will automatically be registered for the My Health Record system as well. 
Before you register, carefully read the information below to get a better understanding of the organisational structure and individual roles.
Seed
A Seed organisation is a legal entity with an ABN (e.g. company, sole trader) that provides or controls healthcare delivery. For example, a general practice, pharmacy, specialist clinic, or hospital. 
Network
A Network operates under the responsibility of a Seed. 
Seed/Network structure
A hospital might be a Seed and have multiple Networks (such as a pathology or radiology unit) within the structure.
A structure doesn't have to have more than one organisation. It can have just one Seed organisation (such as a single general practice or pharmacy) and no other.
When setting up a structure, your first step would be to register the Seed.
The My Health Record website has more detail about Seed and Network organisation structures.  
Roles and Responsibilities
A Seed organisation must have people assigned to certain roles. These roles authorise them to carry out certain actions.
Responsible Officer (RO) role
The RO is the person who is registered with the HI Service and has authority to act on behalf of the Seed and relevant Network organisations.
Organisational Maintenance Officer (OMO)
The OMO is a person who is registered with the HI Service and acts on behalf of a Seed and/or Network organisations (if any) in day-to-day administration regarding the HI Service and the My Health Record system.
Healthcare organisations can have more than one OMO if they wish. An organisation should have an additional OMO (i.e. who is not the RO) because it would give another staff member authority to do certain tasks when the RO is not available, is on leave, or has left the organisation. Tasks include renewing NASH PKI, requesting  Medicare Site Certificates, and communicating with the HI Service. Follow these steps to add another OMO.
The My Health Record website has more detail about roles and responsibilities.  
How to register your Seed/Network organisation
The registration process results in your organisation receiving a Healthcare Provider Identifier - Organisation (HPI-O). You must have an HPI-O to use the Healthcare Identifiers Service (which the My Health Record relies on). 
When registering your organisation, you will be automatically assigned to official roles: the RO and the OMO (see more information about these directly above this section). Following successful registration you can update or add new OMO(s) in HPOS. 
Before you start:
Registration is done in HPOS. If you don't already, make sure you have a PRODA account to access HPOS. 
You will also need your ABN, and at least one document of evidence of authority to act on behalf of the organisation. This document must be certified. Certification can be done by anyone (who is not the applicant) who is authorised to certify documents, e.g. a health professional or a JP. Evidence of authority documents pertain to the organisation and name the person who is applying for the HI Service. Valid documents are listed below. 
 

You need one of these:
Certificate of registration of the organisation with Australian Securities & Investments Commission (ASIC)
Australian Business Registrar (ABR) notice
Organisation trustee appointment (where applicant is listed as a stakeholder)
Contract for sale or purchase of business
Financial institution statement which is less than 1 year old
Lease agreement
Rates notice
Certificate of change of name from ASIC
ATO document

 
Steps to register:
Login to HPOS.
In the HPOS main menu, click My Programs.
Click the Healthcare Identifiers and My Health Record tile.
Click the Healthcare Identifiers - Register Seed Organisation tile:

​

Fill in the fields and click Submit to complete the form. 
Your application will have a 'Pending' status. You must wait for email notification within your HPOS Mail Centre – My mailbox for your HPI-O number.

If all the required information is provided, this will only take a few minutes.

To access your mailbox, go back to the HPOS home page, and select the Messages tile. 
If your application is rejected or you have a problem with the online application, contact the HI Service enquiry line on 1300 361 457.

Search for an HPI-I
Search in HPOS for the HPI-I of your AHPRA-registered staff
Go to AHPRA and find the record using the Check your health practitioner is registered search. 
The search results will give you the Registration Number (which starts with 3 letters eg. "MED" for medical practitioners, "NMW" for nurses).
Copy the Registration Number.
Login to HPOS.  
In the HPOS main menu, click My Programs.
Click the Healthcare Identifiers and My Health Record tile.
Click the Healthcare Identifiers - Manage existing Records tile.
Choose the healthcare organisation you wish to act on behalf of.
Click Search HI for provider Individual.
Paste the Registration Number from step 3 into the AHPRA Registration Number field and fill in the Family Name field.
Click Search.

The results screen will show you the details, including the HPI-I.
If you're following the key registration steps, now contact your IT support or software vendor to arrange a time to configure your software to MyHR. 
Use AHPRA to get your own HPI-I
From the My details menu, select the HPI-I option to reveal your number. 
Apply for an HPI-I 
Non-AHPRA registered healthcare providers must complete the following steps: 
Login to HPOS.
In the HPOS main menu, click My Programs.
Click the Healthcare Identifiers and My Health Record tile.
Click the Healthcare Identifiers – Register Allied Health Professional.
Click Register in the HI Service and get a HPI-I then click Apply now.
Follow the steps to register.
Once your application is processed, you will be notified of the outcome via email in your HPOS inbox.